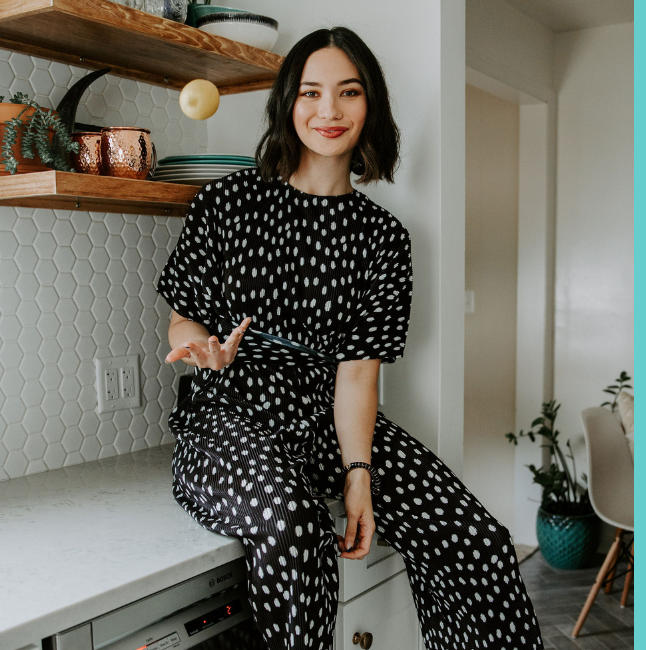 Want to stop using temporary fixes to manage your symptoms?
Wish you understood the WHY behind your health concerns and felt confident in how to support your body's unique needs?
Imagine if…
...you had energy to get through your action-packed day - without coffee.
...you didn't NEED to pack backup outfits for vacation to hide major bloat.
...you no longer had to know where the closest bathroom was at all times because your gut no longer serves unwelcome surprises.
…your cycle was a regular guest, instead a flakey or over-staying monster.
...you could spend your free time doing things you actually love, instead of going down the Google abyss trying to manage your symptoms.
...you finally saw progress in your skin health by supporting it inside/out.
...you felt clear and confident in your diet and lifestyle instead of overwhelmed by the noise and D.I.Y. chaos.
And…
…you were your own food detective: navigating labels, grocery stores, and travel like a pro.
...you can scroll past Karen's B.S. shakes and fitfluencer fad diets because you understand YOUR body and how to choose food and supplements that support it.
...you had a nutritionist/hype woman on-demand for support and mentorship whenever you felt "stuck", so you won't feel overwhelmed or lost again.
...you were supported by a community of like-minded, proactive women to cheer you on.

Want to make this your reality?
Root Cause Reset will give you with the tools and support to do this, and more.

What clients are saying
Click on the photos below to see full testimonials.
You can also check out my Results highlight on Instagram for more client wins.
You're Invited to Join Root Cause Reset
Root Cause Reset (RCR) is a step-by-step nutritional therapy program that helps you heal your gut so you can balance your energy, cycle, and skin.
Whether you're new to changing your diet and lifestyle, or you've done some work on your own...RCR will help you understand your symptoms, how to support your body's unique needs (and WHY), and help you create a sustainable diet and lifestyle.
No B.S. shakes or trendy juices (I'm lookin' at you, celery juice), and no more being overwhelmed by Dr. Google and the D.I.Y. chaos.
You'll learn everything you need to know about supporting your health from the inside/out (digestion, fatty acids, sugar handling, nutrient-dense diet, managing stress, and more) through our detailed 10-week curriculum.
And when you have questions or need support, I've got you! When you join RCR you gain access to daily support inside our private Facebook community, plus weekly Q+A live calls to help you digest the material, understand your symptoms, and make progress in your health journey.
No suffering in silence! You'll have me as your friendly online-nutritionist / hype woman and have the support and solidarity of like-minded women.
This program is
NOT

for you if…

You follow a vegan or vegetarian diet

You are looking for a quick fix

You are only interested in weight loss

You aren't willing to invest in your health

You would rather make excuses and be comfortable than do the work
Is this you?
You are tired of trying "everything" with poor results
You are willing to make your health and mindset priority
You want support and accountability in reaching your goals
You want to find and improve the root cause of your health concerns, NOT just use temporary, bandaid solutions
You have trouble figuring out what is right for you amongst dietary misinformation and fads.
If you said yes to any of those statements...Root Cause Reset is for you.
Let's shorten your health journey – and have fun while doing it! #nosadsalads
Proven Method For Results
No more going down the Dr. Google rabbithole, crowdsourcing your health concerns, or trying the latest fad that an influencer (with no certs) is promoting. Put down the celery juice and back away slowly! Follow the modules, make the changes, and watch your health improve.
10 Detailed Modules
Dive into 10 weeks of lessons. These are dripped out weekly, so you can learn and implement without overwhelm. You'll learn everything you need to know about real food nutrition, how to understand your body, and how to support it whether you are at home or on the go.
Nutrition & Lifestyle Audit
Before RCR begins you'll complete a nutrition assessment to get a baseline of your current health and identify opportunities for your program.
Lifetime Access
Inside RCR you're given lifetime membership to course content, which means ongoing resources and access to new material as it's available.
Support
We hold weekly Q&A calls on Zoom to give students live, high-touch coaching.
Community
Making diet and lifestyle changes is easier with accountability and community. When you join RCR you have access to daily support in our private Facebook group. Have a question or just want to share a win? We want to hear it and hype you up.
What clients are saying
Click on the photos below to see full testimonials.
You can also check out my Results highlight on Instagram for more client wins.
Oh hey! I'm Diane Teall Evans: certified nutritional therapist (NTC, RWP), your hype woman, and dog-aholic with a silly streak.
I created Root Cause Reset because I wanted to help more women who are in the same spot I was a few years ago.
I know what it's like to pour yourself into your work and not have the energy to address your symptoms that prevent you from showing up fully in your work and life. You want to feel better, but there's so much conflicting, overwhelming diet information to sort through that you're not sure what will work for YOUR unique needs. You feel guilty about your health, but fall off the wagon without guidance, accountability, and a strong support system.
Before I became a nutritionist I spent SO much time, energy, and money trying to find D.I.Y. solutions to manage: digestive issues, afternoon slumps, hormonal migraines, and breakouts that wouldn't quit. Now? I feel better physically and emotionally than I have in years: clear skin, more [natural] energy, no hormone headaches or daily TUMs. I have clarity about what works and what doesn't, and I'm here to help shorten your healing journey.
I believe when we know better, we do better – and keeping the momentum going is easier (and more fun, tbh) when you don't go it alone.
I look forward to supporting you.

If you are ready to finally understand your symptoms and take charge of your health….